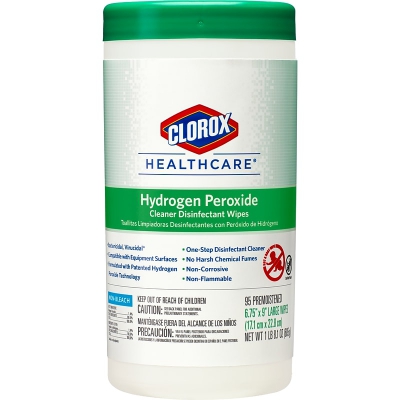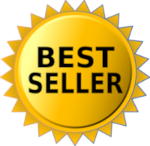 QTY:
Please Log In For Pricing
/
Kills microorganisms on a broad range of surfaces in as short as 30 seconds. Intended for use in healthcare facilities.
Clorox Healthcare® Hydrogen Peroxide Cleaner Disinfectant Wipes kill microorganisms quickly on a broad range of surfaces. These strong and durable wipes are a one-step solution to cleaning and disinfecting. They cover greater surface area with fewer wipes, for better value and less waste. They have 30 to 60 second hard surface disinfecting times on most bacteria and viruses. They also kill bacteria on soft surfaces in just 30 seconds. EPA-registered to kill pathogens on both hard and soft surfaces. Conscious of patient and staff comfort, these wipes are formulated with no harsh chemical odors, fumes, or added fragrances. Available in small, medium and large wipe sizes to fit a variety of cleaning needs. Intended for use in commercial settings.
active_ingredents: NON-BLEACH Active Ingredient: Hydrogen peroxide: 1.4%, other ingredients: 98.6%
selling_statement: • Ready-to-use one-step cleaner disinfectant wipes • Noncorrosive • EPA-registered to kill more than 40 microorganisms, including 13 antibiotic-resistant organisms • 30 - 60 seconds hard surface disinfecting time for most bacteria and viruses • Kills bacteria on soft surfaces in 30 seconds • No harsh chemical odors, fumes, or added fragrances • Fast non-bleach disinfectant • 95 (6.75" x 9") disinfecting wipes • Intended for use in healthcare facilities.
applicable_material: Acrylic, Ceramic, Chrome, Fiberglass, Glass, Metal, Plastic, Tile, Vinyl, Wood
caution_warnings_allergy_statements: KEEP OUT OF REACH OF CHILDREN. CAUTION: Causes moderate eye irritation. Avoid contact with eyes or clothing. Wash thoroughly with soap and water after handling and before eating, drinking, chewing gum, using tobacco or using the toilet. Not for cleaning or sanitizing skin. DO NOT USE AS A DIAPER WIPE OR FOR PERSONAL CLEANSING.  Do not use on glassware, utensils or dishes.
origin: USA
dirt_types: Bacteria, Dust, Fungus, Germs, Mildew, Mold, Soil, Viruses
fragrance: Unscented
grade: D
pack_count: 6 Canisters
packaging_type: Canister
product_application: Hospitals, Medical Facilities, Nursing Homes