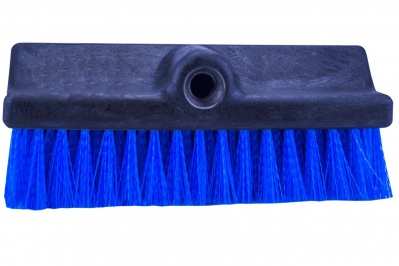 QTY:
Please Log In For Pricing
/
Designed to fit any life style whether it is commercial or household use. Janico scrub brush head will not crack under pressure or heavy use, it will not deform into a weird looking shape and it will not mildew. The scrub brush head is washable, for long lasting performance. The scrub brush features multi positions curved head, which effectively cleans baseboards, decks, garage, patios and warehouse floors. Janico deck scrub brush effectively scrubs tough dirt or stains in wet or dry conditions. This bi-level deck scrub brush should be used with any standard threaded tip handle. (Handles sold separately)
Block won't crack, deform or mildew
10" Heavy duty black block with washable blue bristles that tackle tough stains and dirt
Multi positions - Curved head effectively scrubs baseboards, decks, patios, warehouse, garage floors
Easily fits under machinery and counters
color: Blue
grade: D
size: 10" x 4" x 5"