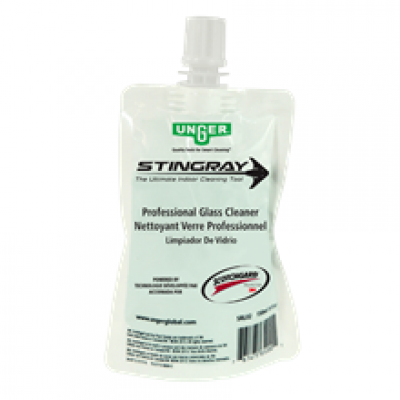 QTY:
Please Log In For Pricing
/
Get a streak-free clean on your glass surfaces with fast-drying, 5-ounce Stingray glass cleaner. This cleaner works with your Stingray glass cleaning system to get doors and windows clean 25% faster with almost 40% less chemicals than the traditional cloth cleaning method. Integrated Scotchgard Protection makes glass easier to clean in the future.
The Unger Stingray Professional Glass Cleaner is a specially designed soap that provides streak-free cleaning, fast drying, and Scotchgard Protection for easier to clean glass.
Ready-to-use, easily replaceable pouches for Stingray Indoor Cleaning System, pre-filled with high quality 3M Scotchgard Professional glass cleaner.
Effectively removes dirt, grease and fingerprints.
Fast drying, leaves no streaks or marks.
One pouch cleans up to 1600 sq ft given low to medium surface pollution.
brand: UNGER ENTERPRISES INC
grade: D
pack_count: 150ml Per Case Of 24
size: 5OZ
upc: 761475651943