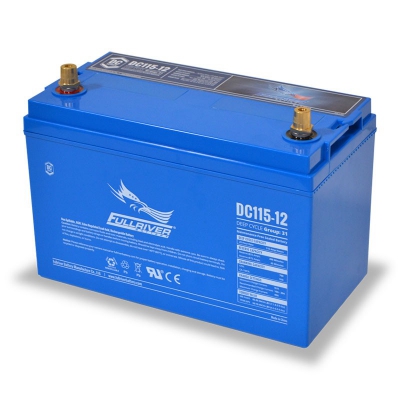 QTY:
Please Log In For Pricing
/
2 Volt - 115 Amp Hrs - Group 31 Premium Sealed Maintenance Free Deep Cycle Batteries for Marine, RV, UPS, Inverter, Solar Panel (Photovoltaic), Telcom, CATV and Stand-by Applications. 
The Fullriver FR31 (DC115-12) is a high performance AGM deep cycle battery. Due to the Fullriver's unique construction, it guarantees leak proof operation in any position. The AGM technology allows for a completely sealed maintenance-free battery with no need to add water. Fullriver batteries incorporate a built-in design that recombines over 99% of gases. The FR31 (DC115-12) has over 1000 discharge/recharge cycles giving them an expected life span of 5 to 7 years. The Fullriver FR31 (DC115-12) is a direct replacement for any group 31 lead-acid, GEL, or AGM batteries. Warranty is for 5 years (First 24 months free replacement, next 36 months prorated).
grade: D
upc: 55000012705856