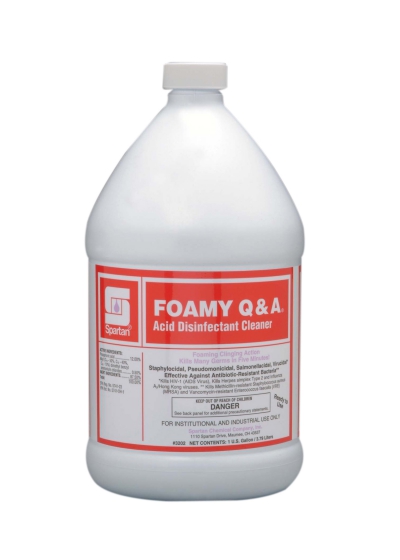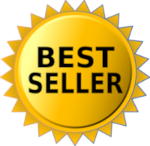 QTY:
Please Log In For Pricing
/
Acid disinfectant cleaner for shower rooms, restrooms and locker rooms. EPA Reg. #5741-23.  NOTE: See RTU Handi Sprays for quart prices.
Foamy Q & A is a ready-to-use, acid-based formulation with special foaming action for fast and efficient maintenance of shower rooms, restrooms, locker rooms and other areas with similar surfaces to be cleaned. Staphylocidal. Pseudomonicidal. Salmonellacidal. Virucidal. Foamy Q & A kills HIV-1 (AIDS Virus), Herpes simplex Type 2 and Influenza A2/Hong Kong viruses on hard, nonporous inanimate surfaces. Foamy Q & A has been tested and shown effective against Methicillin-resistant Staphylococcus aureus (MRSA) and Vancomycin-restistant Enterococcus faecalis (VRE). Foamy Q & A cleans and brightens by chemical action. Foam on. Agitate. Rinse. Easy to apply, use a Foam Trigger Sprayer, a Spartasprayer or Spartan Foam Gun. Foamy Q & A can be used on a wide range of acid-resistant surfaces such as ceramic tile walls, toilet bowls, urinals, chrome, drinking fountains and other stainless steel surfaces.
Hospital grade, 1-step cleaner and disinfectant
Special foaming action for fast and efficient maintenance of shower rooms
Meets the recommendations of OSHA blood borne pathogen standard
Effective against the following viruses: HIV-1 (AIDS Virus), Herpes simplex Type 2, Influenza A2/Hong Kong viruses, Pandemic 2009 H1N1 influenza A virus
brand: Disinfectants
color: Red
dilution: Straight - 12 OZ./GAL.
fragrance: Floral-cit
grade: D
ph: <2
pack_count: 1 gallon (4 per case)
size: 1 gallon (4 per case)
upc: 10753727010889