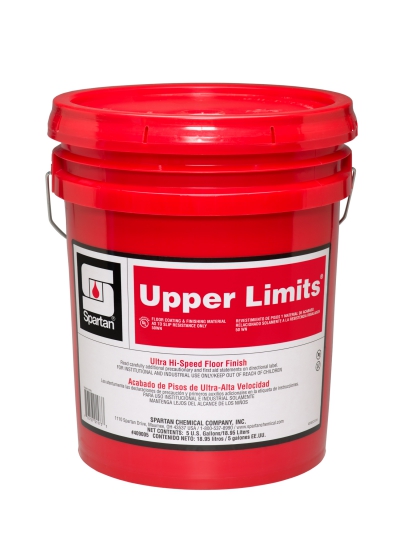 QTY:
Please Log In For Pricing
/
20% Solids. Ultra Hi-Speed Floor Finish. 
Second generation, ultra-high speed floor finish features clear, hard gloss plus the toughness of thermoplastics. Recommended when once a week buffing is preferred. Upper limits is a high-tech floor finish formulation designed for optimal response to ultra hi-speed burnishing. Upper Limits levels and bonds extremely well. Non-powdering and easy to repair and remove. An integral part of Spartan's time saving ultra hi-speed system, Upper Limits offers optimal performance plus maximum time and labor saving benefits. A remarkable futuristic floor finish!
20% Solids
Ultra high speed burnish able finish designed for high traffic areas
Provides a tough and durable film that can be quickly high speed buffed to a wet look gloss
Provides quick response to high speed equipment, reducing the time required for maintenance
brand: Floor Finishes, Waxes, Seals
color: Milky
fragrance: Acrylic
grade: D
ph: 8.0 - 8.5
pack_count: 5 gallon pail
percent_solid: 26.65
size: 5 gallon pail
upc: 753727015733