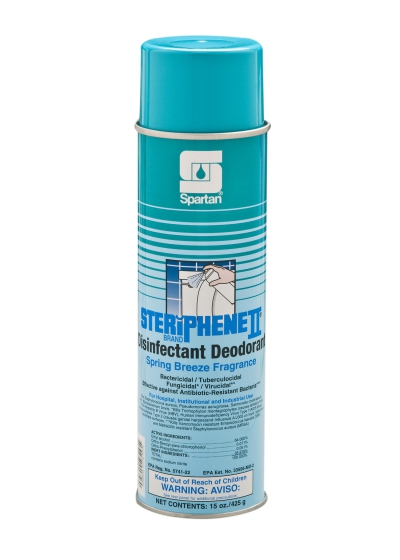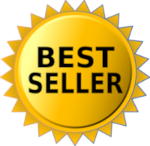 QTY:
Please Log In For Pricing
/
Tuberculocidal. Bactericidal. Fungicidal. Virucidal. Kills HBV, HIV-1 Type 1(AIDS Virus), Herpes Simplex Type 2 and Influenza A/J305 EPA Reg. #5741-22 12/20 oz. cans, Net 15 oz. STERIPHENE II BREEZE SCENT 20 OUNCE 12/CS DISINFECTANT SPRAY EFFECTIVE AGAINST VRE MRSA HIV-1 BACTERIALCIDAL FUNGICIDAL VIRUCIDAL NET WEIGHT 15 OZ PER CAN PH 8.5
Steriphene II's dual phenolic system provides effective antimicrobial activity against all claimed microorganisms (see product label or test data on back page) on hard, nonporous, environmental surfaces. Ideal for convenient disinfection after spot clean-up for areas not easily reached during routine disinfection procedures. Steriphene II has been tested and shown effective against Methicillin-resistant Staphylococcus aureus (MRSA) and Vancomycin-resistant Enterococcus faecalis (VRE). Highly active, the Steriphene II formula kills odor causing germs on tables, countertops, bathroom fixtures and other hard, nonporous surfaces. Recommended for use in hospitals, schools, hotels or any other commercial, industrial or institutional facility where a sanitary environment is important. Leaves room smelling clean and fresh.
Effective against Tuberculosis, HBV, HIV, Herpes, Flu, MRSA, and more
Convenient for spot-treatment or often-overlooked areas
Perfect for use in hospitals, schools, and other public areas
Works on any hard, nonporous surface
brand: Aerosols
color: Colorless
origin: US
fragrance: Spring Breeze
grade: D
ph: 8.0 - 9.0
pack_count: 20oz. (12 per case)
size: 20oz. (12 per case)
upc: 10753727017567